Saritasa Places Within Top 50 B2B Global Leaders on Clutch 1000 Report!
We've been fortunate enough to have won multiple awards for our experience in the development field, so far. Whether it's building a mobile app or diving into more emerging technologies like AR/VR and IoT devices, our team has consistently worked to deliver robust solutions for our clients.
But it's our latest award that really takes the cake. Clutch, an independent reviews-based platform, has recently ranked us #22 in their list of 1000 elite service providers across the globe. This annual report takes into account nearly 160,000 participating companies in various industries, selecting only the top 1%.
To be one of the top Global Leaders, all companies are assessed based on various criteria, including market presence, industry research, and ability to deliver. Verified client reviews also play a huge role, which is why we've worked with Clutch to amass feedback from over 20 of our past clients.
One of our most recent reviews is from a car charging company. We've partnered with them for over 6 years, handling their UX/UI design and supporting their mobile needs. Considering their perfect 5-star review, it's no wonder that we're still collaborating to this day.
We're proud to show off our feedback because it highlights just how dedicated we are to building strong client relationships. Our successful track record has also made us eligible to be featured on Clutch's sister sites. The Manifest promotes business like ours in ranked data-driven directories, and Visual Objects helps build brands through their creative portfolios.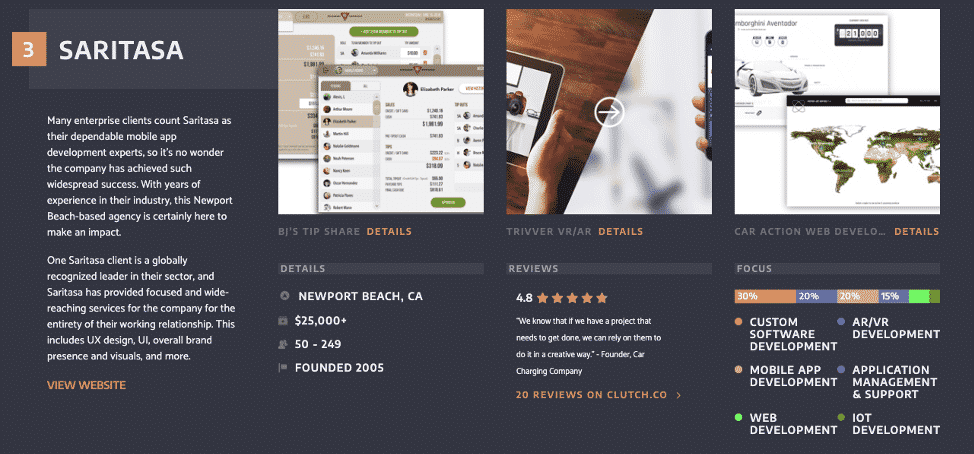 If you're looking for a full-service development house for your next project, don't hesitate to contact us. We'll scope out your project, assigning a dedicated business analyst to home in on your specific requirements and develop a tailored plan for you.
Get Empowered!
Receive industry insights, tips, and advice from Saritasa.
We publish new articles 1-2 times a month, sign up today.