Overview
eDepoze came to Saritasa as a start-up needing development services to build the first BETA release of the eDepoze software. As a leading technology partner to start-ups and SMBs, we worked with eDepoze to provide development support during the transitioning of the code to their internal team after they raised investment funding in early 2013.
eDepoze is a cloud-based deposition software that replicates the paper deposition process on the intuitive iPad interface with electronic exhibits for attorneys to present during proceedings. Designed by attorneys for attorneys, the eDepoze BETA app was built by the Saritasa iOS development team to enable management of the entire deposition process from within the iPad, increasing organization and cost efficiency.
The eDepoze iPad App was developed using Apple's software development kit (SDK) and the programming language Objective-C, and is available to demo or purchase from the eDepoze website.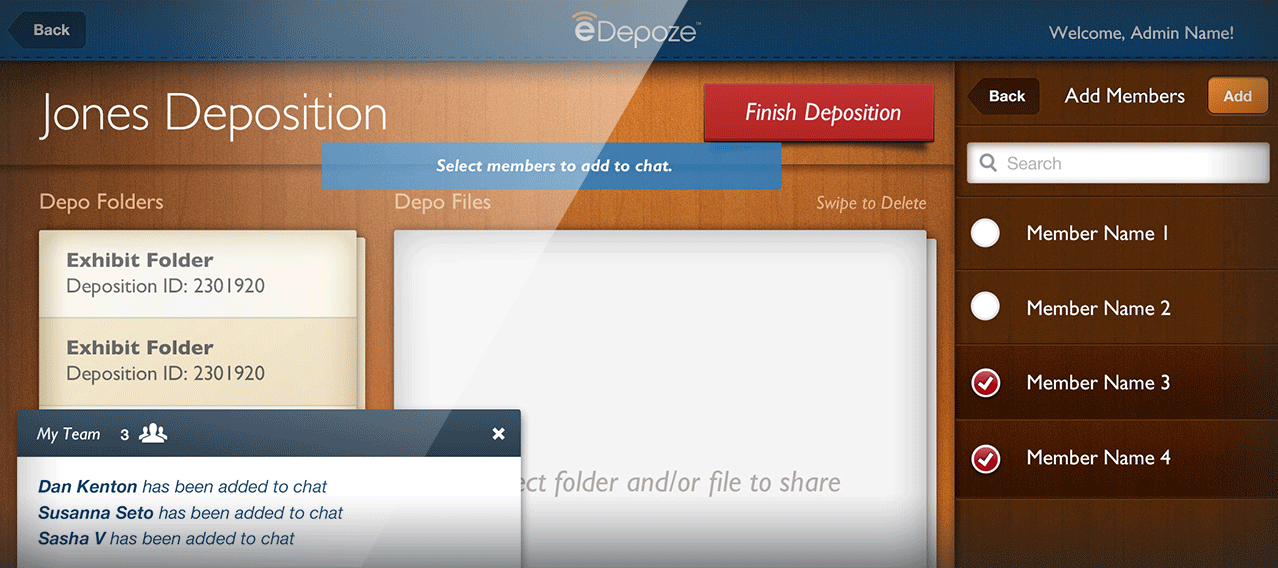 eDepoze CMS & iPad App
Key Features
Remote Management: Remote depositions can now be handled the same way as in-person depositions, regardless if the attorney is attending the deposition or thousands of miles away. Attorneys may also access downloaded documents from past or new depositions at any time, anywhere, even if offline.
Message System: The internal messaging system allows users to send exhibits back and forth within the eDepoze iPad app via email, even during the deposition. Attorneys can share, review and annotate copies with arrows, circles, highlighted text or sticky note type text to better focus on key elements, then save and share again.
Content Management System: The eDepoze iPad Application includes a full back end system, developed using Linux, Apache, HTTP Server, MySQL and PHP (L.A.M.P), that allows law firms to create and manage specific cases, and within those cases create depositions, where attorneys upload any necessary documents.
Secure File Storage: All data is managed and stored on a secure server at a PCI and HIPAA compliant cloud based hosting facility with flexible scalability. Using the secure communications protocol (HTTPs) for file and data transfer between iPad, server and multiple users, provides authentication of the web site and associated web server to protect against tampering.